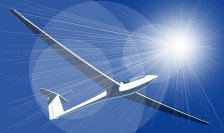 Mike Havener
Designated Pilot Examiner
Certified Flight Instructor - Glider

Learning to fly is more than just a physical challenge with time-saving benefits. Flying engages the whole person; a life-changing, character-building adventure! The fact that it is "somewhat difficult" and requires dedication and commitment, can be a good thing!
This site provides information and resources to anyone who has an interest in flying gliders / sailplanes. Regardless of your experience, be it someone who is trying to find out what flying gliders is all about, Student Pilots, Certified Flight Instructors - Glider or you're preparing to take a Practical Test for a Glider rating, you'll find a wealth of information and training resources that will help you accomplish your goal.
Introduction to Soaring
Soaring is as close as humans can come to flying like birds. Gliders use 3 axis control just like birds do. The Wright Brothers looked at birds and built the Wright Flier. The first flights at Kitty Hawk were glider flights.
I was like a lot of pilots that hung out at the local airport dreaming about the day that I would walk up to an airplane and learn to fly. When that day came, I plunked money down at the flight school without giving it much thought, unaware of what was involved with learning to fly, or understanding what makes an airplane fly.
Soaring gives you a far better understanding of how a plane flies and teaches you how to use Mother Nature to your advantage. Not only that - it's just plain FUN. You don't jump in a glider to fly off for a $100 hamburger lunch.
Student Glider Pilots
While different soaring sites have their own unique training environments, the FAA requires that all students are trained to the same standard, using approved reference materials so they can safely operate an aircraft in the National Airspace System.
I've included the references, resources and information I use when training students up through their first glider solo flight, which as mentioned meet the FAA stated requirements. Even if your school uses a different curriculum, the references, resources and information required are the same. I've also included some recommend materials which will help student pilots get a better understanding of the basics and help them be safe pilots.
Glider Pilot's License
Any glider training done after a student's first glider solo flight is obviously required to attain an FAA glider certificate, be it an initial or add-on to an existing certificate. This training is quite different from your pre-solo training and in fact, students are now referred to as Applicants, since they will now be applying for the certificate sought. Their training is now focused on performing to a higher level of understanding and proficiency.
As a Glider, Designated Pilot Examiner for the Riverside FSDO , I've included the all of the references, resources, information and materials in the Flight Instruction section that an Applicant needs to be familiar with and will help ensure that they're ready to pass their Practical Test.